Give em The Murray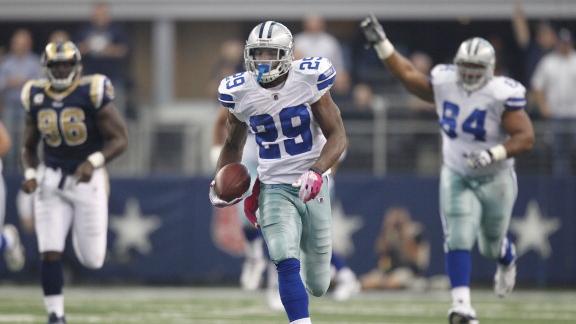 http://www.punchdrunkwonderland.com
http://twitter.com/#!/PDWonderland
While
Arian Foster
topped the Week 7 points list with 41.4 fantasy points, the big story of the week was
DeMarco Murray
. Murray piled up 253 rushing yards and a touchdown versus the St. Louis Rams, setting a new Dallas Cowboys single game record. And, anyone who picked up Murray in fantasy would be in great shape if he made it onto their Week 7 roster. I wonder if anyone managed to pull that off in PDW…Oh yes, they did. Genius work, Kommish. In a work of waiver wire art, The Apparatus saved a week of sparse points from the rest of his team and totally gave JUGG The Murray. Sorry, man (And sorry, Aaron).
Going into Week 8 RickK'sRevenge remains at the top of the PDW standings along with Stl iPoopers at 6-1. ShortBus (5-2) and The Apparatus (4-3) round out the third and fourth spots while a sizeable log jam sits at 3-4. Week 8 will be interesting as none of the 3-4 teams are faced off against each other, but they are in positions to topple some of those blocks at the top of the standings.
Keep in mind that the PDW Trade Deadline is November 23rd. It looks like the short offseason is starting to take its toll on some of the NFL players, and injuries abound. Keep your eyes on the waiver wire, spin some trades, and keep those rosters shuffling. Good luck in Week 8, Drunkards.
Week 7 Top 10
Arian Foster 41.4
Chiefs D/ST 36.6
Drew Brees 33
DeMarco Murray 31.3
Ben Roethlisberger 26.2
Aaron Rodgers 26.2
Cam Newton 26.1
Darren Sproles 25.5
Matt Forte 24.3
Adrian Peterson 23.5
Week 8 PDW Matchups
3-Ho' Punchers: Painter Sucks! (3-4) v. The Apparatus: The Murray (4-3)
JUGG: NotSure FootballWorks4U (2-5) v. NSFW: Gathering oftheJuggerLoss (3-4)
BackFromThe 281 YEE-HAA! 317 (3-4) v. ShortBus: AWWWWWYEAAAAH (5-2)
I Need A Miracle (3-4) v. Stl iPoopers (6-1)
We'll all go to Hell Together (2-5) v. Dude Where's My Team (2-5)
Team Jett (3-4) v. RickK'sRevenge : OnWithTheShow (6-1)
About K. Smelser
Kelly Smelser is Owner/Senior Writer for Punch Drunk Wonderland and PDFantasy Sports. Architect of the PDW fantasy football world and general spinster of NFL and Fantasy Football news and analysis. Long walks on the beach, sunsets, and other such niceties are also fine...