After a long week of players getting suspended off the field, it was nice to get back to what really matters- all of them getting hurt ON the field. Between injuries, suspensions, and usage issues, I think it's time to stop thinking of fantasy teams in terms of an assemblage of players you think will perform well, and just treat them like the zombies from World War Z: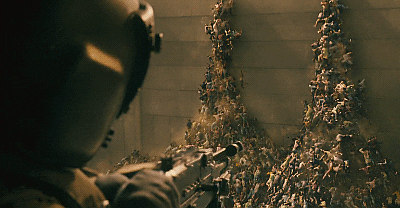 Just grab a bunch and throw 'em at your opponent. Maybe a couple will make it over the wall.
Not a lot of close matchups left going into an interesting MNF game.
Darby is down 25.1 points against Justin with only Darren Sproles left. The only scenario wherein Sproles hits that kind of number is one where McCoy goes down, which if it were to happen might lead to the Kommish burning down the entire internet that none may play fantasy ever again.
Speaking of which, K is down 52.7 to James with only McCoy left. The sequence of trading Sproles for Colston to start for Brandon Marshall, having Colston put up zero, and watching Bmarsh go nuts on his bench was rough. The only thing that could top it would be the aforementioned scenario where McCoy goes down and Sproles goes off. I shouldn't even say things like that out loud. Strange day here at Windswept Fields.
In a matchup that's sure to blot out any enjoyment I might have in watching tonight's game, I'm down 10.1 to Craig. I have LB Mychal Kendricks and kicker Cody Parkey, where Craig has Vinatieri. It should be exciting to see what happens and not at all a bunch of bullshit because kickers are stupid. Don't despair, though. I got this. No doubt.